32 Archer GIFs That Prove It Is One Of The Most Awesome, Wacky And Brilliant Shows On TV
Archer is one of the smartest, slickest and most endearing shows on television and the skill and talent that is takes to produce this animated comedy that works on a multitude of layers cannot stated enough. The cast of characters, voice over talent, beautifully #animated visuals, amazing stories and impeccable dialogue is second to none. Not that I've talked about how amazing #Archer is, here are 32 #GIFs that prove my point that is is one of the most awesome, wacky and brilliant shows on TV.
DUH - and or Hello
Pam Crying... Which Tends To Happen A Lot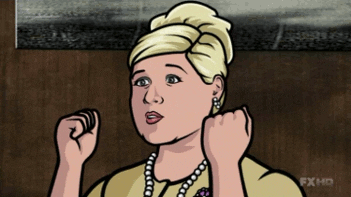 BOTH OF YOU IMAGINE SHUTTING UP! - Malory Takes No Messing From The Gang In Archer
DANGER ZONE
One Moment
Bloody Mary, Full Of Vodka
Again, One Moment
Archer The Master Of Disguise
YOU'RE NOT MY SUPERVISOR!
Yeah We Did And You LOVED It!
JAZZ HANDS! I love Krieger!
Anger Is Basically Your Default Setting
What's In The Muffin Pam?
GOD DAMMIT!
FIVE INGREDIENTS!
Classic
The Cast Of Characters Is Incredible
Bionic Barry Vs. Figgis
The Fight Scenes In Archer Are Outstanding
Archer Car Chases Are The Best
AAAGH!
Phrasing! Boom!
BWACK BWACK!
Cherlene Is A Drama Queen
DO YOU WANT ANTS? BECAUSE THAT'S HOW YOU GET ANTS!
I Couldn't Hear You Over The Sound Of Your Wrongness
It's Like Seeing The Face Of God!
I Swear To GOD One Of These Days...
Ugh, I'm Surrounded By Mediocrity!
You're Doing This Just To Spite Me!
Space Cowboys!
Boop.